Solar Energy
Kaemmerlen has achieved an incredible level of depth in this aspect of the burgeoning renewable energy market. This has happened at a fast pace and within a relatively short period of time, which reflects the rapidly growing interest in solar within our local marketplace. It has resulted in learning new technologies and installation techniques for something very different within the construction industry. Gaining expertise in new technology has been rewarding for the field electricians, who are always looking for areas of professional growth.
With the rapid growth, Kaemmerlen has seen more and more projects containing an aspect of renewable energy and more companies were pursuing the installation of a solar array to demonstrate a corporate sensitivity to "green construction." "Green Construction" has become a national conversation and Kaemmerlen is part of the dialogue locally in St. Louis.
Kaemmerlen works closely with solar integrators and lends its expertise and experience to both the design and installation. This leads to lower installed costs for its clients, and higher production values from the installed solar array.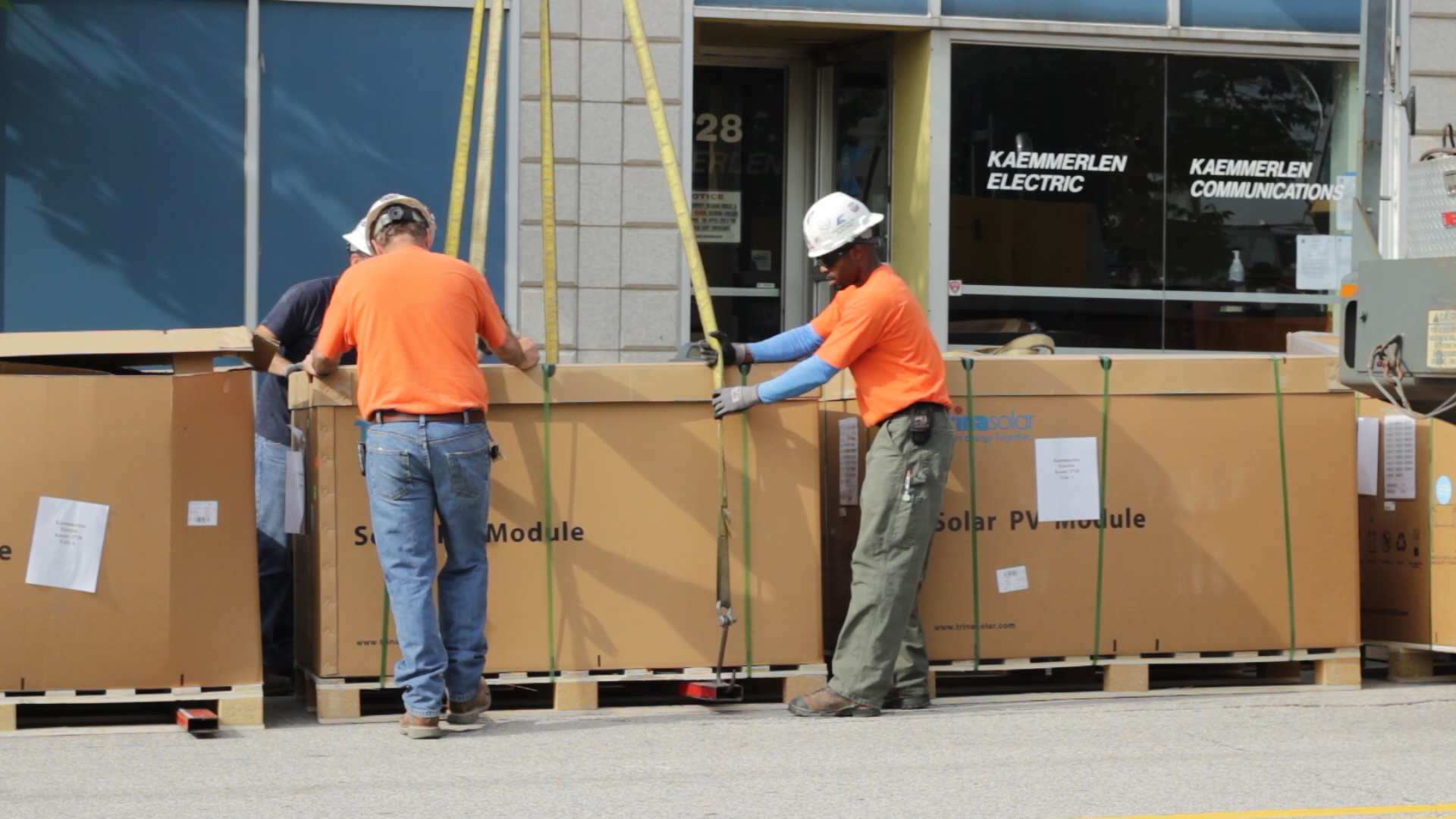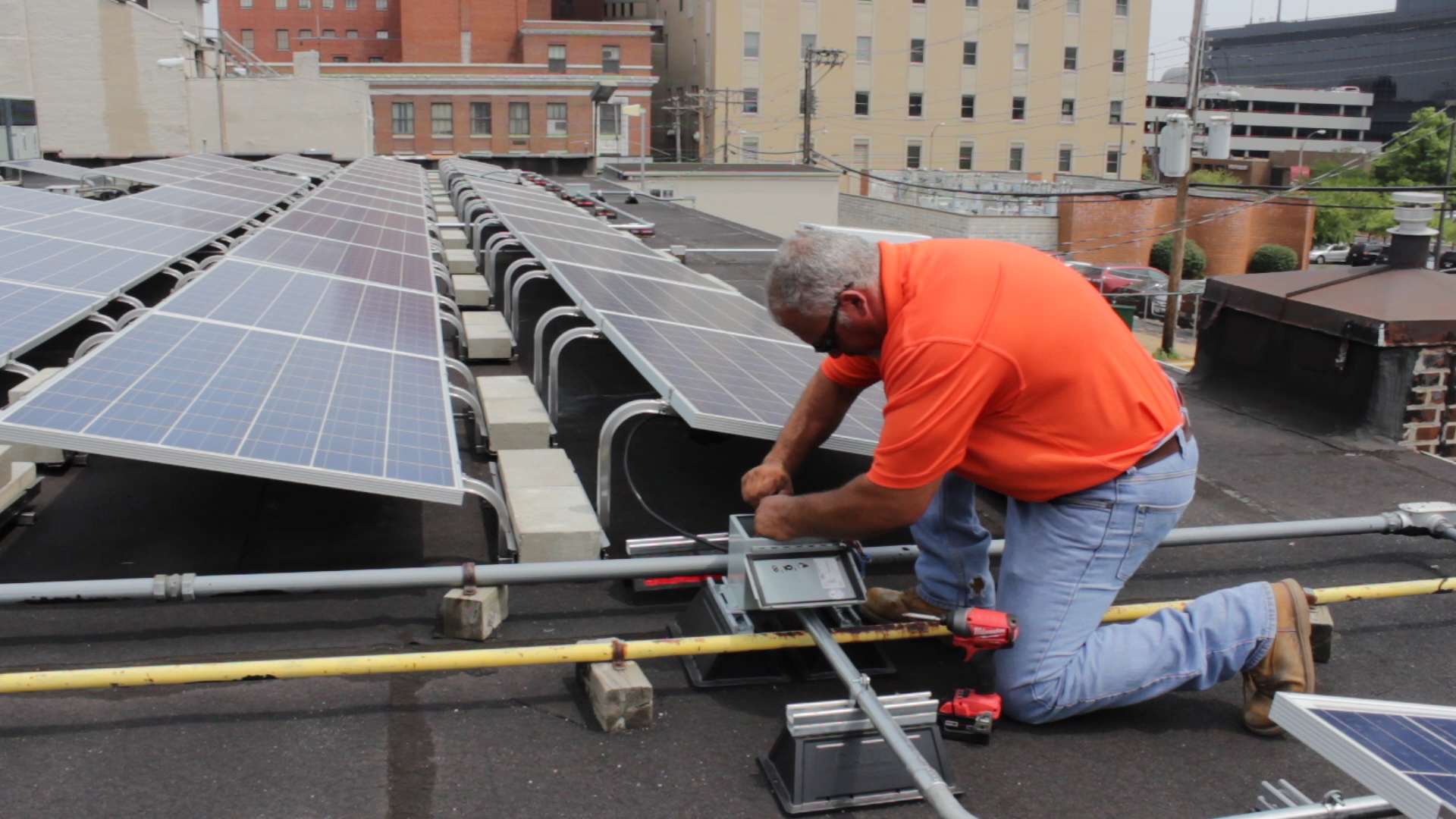 Case Studies
St. Louis Rams
This was one of the few instances where the solar array was integrated into something very visual and sculptural. Kaemmerlen performed a turnkey installation, everything from the significant concrete pier below the grass to the aiming of the giant "arms" to achieve the best blend of production and visual appeal.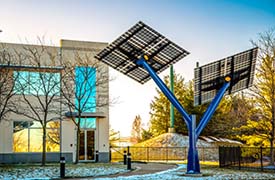 U.S. Bank
U.S. Bank was an institution that really stepped up to embrace solar renewable energy. Kaemmerlen performed an installation on (8) different facilities for U.S. Bank totaling 200kW, everything from retail branch locations to U.S. Bank operations buildings. We had to do a great job of being a great "guest" at each of these locations, being very sensitive not to disrupt or impact their activities.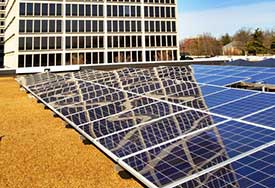 Herculaneum High School / Saint Louis University High School
Both of these high schools are veritable bee hives of activity with large campus environments. Between the two institutions, Kaemmerlen installed 125kW of solar arrays on five separate structures – all with school in session! We need to be sensitive to operations and very attentive to safety due to the 1,000's of curious high school kids at each location!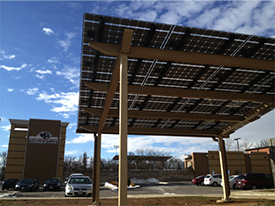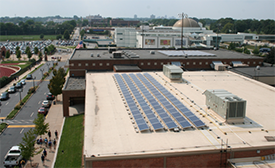 Southwestern Illinois College / Lake Land College / Washington University
Higher education is a natural fit for solar energy. These institutions readily understand the importance of green energy and solar power, which led to Kaemmerlen's installations of more than 300kW of solar arrays.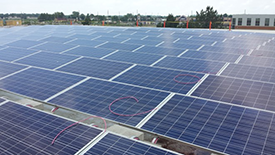 Parkway School District
This was a major large-scale effort where Kaemmerlen moved through over 24 buildings within the Parkway School District. Multiple grade schools, middle schools, the high school, and several operations buildings all received a brand new solar array. This major logistical effort involved multiple crews working concurrent arrays across this very large school district. The results were impressive!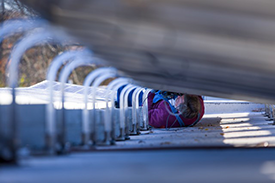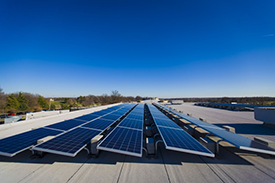 Clayton Police Department
At the time, this installation represented one of the largest arrays in the State of Missouri. This capstone project garnered a lot of public and media attention due to the high profile of the client. What made this installation even more unique was that the entire array was constructed as a large canopy over the top deck of a parking garage, providing shade to the vehicles that park underneath!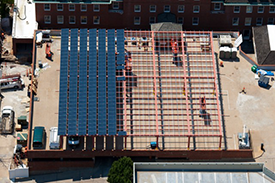 Family Care Health Center
This project involved the rooftop installation of 3,000 square feet of photovoltaic panels, at two different locations, that provided 25,000 watts of power. Carefully coordinated to avoid disruption of the ongoing services to the facility's clients, Kaemmerlen completed the turnkey installation. Unique for Kaemmerlen was the need to fully comply with the National Recovery Act in terms of the stringent criteria for funded projects.