Affiliations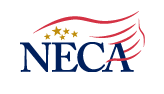 National Electrical Contractors Association (NECA) is the voice of the $130 billion industry responsible for bringing electrical power, lighting, and communications to buildings and communities across the United States. The NECA traces its origins to the birth of modern electricity. In 1901, a group of electrical contractors joined together to foster trade and reform abuses within their fledgling industry. Electrical contractors perform specialized construction work related to the design, installation, and maintenance of electrical systems. Whether high-voltage power transmission or low-voltage lighting, electrical contractors ensure these systems work in a safe, effective, and environmentally sound manner. NECA represents electrical contractors from firms of all sizes performing a range of services.

IBEW (International Brotherhood of Electrical Workers)
Kaemmerlen has been proudly signatory to IBEW since 1947. This long term relationship has fostered an environment of mutual cooperation and focus, with employer and employee both benefiting from the synergy. A capstone feature of the relationship is the award winning educational experience that each of our employees receives through the industry's apprenticeship program. This 8,000 man hour program is a blend of on the job training and structured classroom/lab education. Our people all start with a very solid foundation in our highly technical industry, which can be built upon to create a very productive and effective workforce. Please visit www.ibew.org for more information.
PE (Professional Engineer)
NCEES (the National Council of Examiners for Engineering and Surveying) is a national nonprofit organization dedicated to advancing professional licensure for engineers and surveyors. It develops, administers and scores examinations used for engineering and surveying licensure in the U.S. One of the licenses and titles it awards is that of Professional Engineer (PE). Not every electrical contractor has a qualified PE. Kaemmerlen does. Just to qualify to take the PE exam, a candidate must hold a bachelor of science degree in engineering, accredited by the Accreditation Board for Engineering and Technology, Inc. (ABET). They must take and pass the Fundamentals of Engineering Examination and have had at least four years of satisfactory engineering experience following graduation. At Kaemmerlen, a PE reviews and marks up any drawings that require a seal. The review makes sure that a design meets or exceeds current industry standard practices, which not only include safety issues (meeting NEC codes), but power needs in regard to spatial expansion, possible load growth, diversity factors, grounding, power quality, environmental concerns, lighting, emergency lighting, and any other components that may involve the electrical system as a whole.