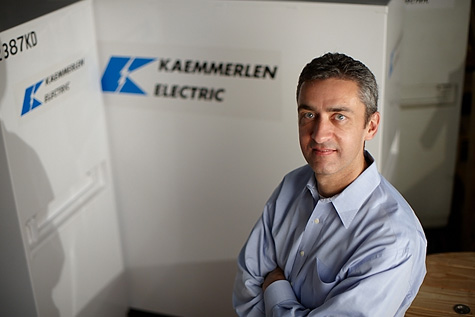 Bob Kaemmerlen Jr.
… on Kaemmerlen being a family business
"It should always feel like you are working with a family business. Whether it's as a client or as an employee, it is my mission that you feel that you are in a caring environment. This takes a lot of real focus and real action … not just talk. When I go to a job site, I take time to visit each person working there. It is very important to me to thank each of them for the hard work that they do. This may not seem like a big deal, but it is to me.
I remember visiting job sites with my dad when I was much younger and watched how respectful he was to everyone he dealt with … I feel lucky to have had such a good mentor."
… on the company's longevity
"The other day I was looking through some of my grandfather's old stuff. I found a small notebook where he kept wiring diagrams. He wrote them down to help him learn how to be an electrician. The notebook is well worn and dated 1919. Seeing that sort of real life history really gives me a sense of perspective.
I know that he made it through some tough times, even outlasting the Great Depression. I am sure he would have lessons for me during these difficult times our industry is currently facing. I have a hunch that he would make sure I focused on simple things … making sure we were efficient and cost effective … and making sure each client felt great about our relationship."
… defining leadership
"We did some leadership training in-house for our project managers and key field staff a few years back. The facilitator gave us her definition of what 'leadership' meant. She defined it as the 'ability to develop relationships based upon trust, respect, and credibility.' Wow! This really resonated with me. It was so simple and easy to get your arms around. From that point forward, I have tried to understand my job description with that mindset.
Each person in our organization can perform like a leader by following this guidepost in developing relationships. All the way down to the green apprentice who is showing up in the industry for the first time with a toolbox of shiny work tools … we all need to be a leader. Everything else will fall into place from there."